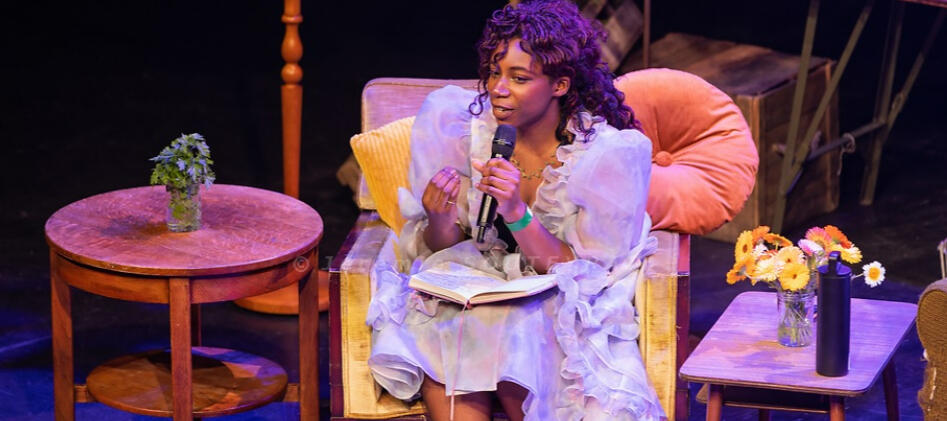 Dominique is a 22 year old Youth Climate Justice Activist, Storyteller, Global Speaker, Writer, Model, and undergraduate student in the U.K who believes in uniting people for climate action and using creative means and the arts to create a cultural shift for our earth.

Dominique Palmer is a Climate Justice Activist, Storyteller, Writer and Speaker based in the U.K. She became an environmentalist after discovering how air pollution was impacting her community. She is an organiser in Fridays for Future, a global youth movement for Climate Justice, and was involved in September 2019 climate strikes which brought 300,000 people on the streets in the U.K. She was named in Forbes 2020 Top U.K Environmentalists List.Harnessing the creative power of the arts to communicate climate issues is a passion of hers. Palmer is a coordinator in Climate Live, a global youth-led concerts harnessing the power of music to engage, educate and empower. She has hosted a panel at Overheated with Billie Eilish at the O2, recorded a song for earth day with Swedish grammi winning artist Titiyo, delivered a worksop with Live Out for the Grammy Museum, and presented the influential power of the arts for climate action at the Barbican. She is also member of Bad Activist Collective, a collective of change-makers, artists, storytellers and activists dismantling perfectionism & fighting for liberation for people & the planet.
She is in UN Women's Feminist Action Coalition for Climate Justice with Fridays for Future MAPA , and a contributor in the co-development of the Global Youth Recommendations: Youth, Gender, and Climate Change. She pushes for equitable climate action, and pressures leaders to act. She is on the Climate Committee for Ecologi, a Treaty Champion for the Fossil Fuel Non-Proliferation Treaty, an Artic Angel for Global Choices, and a UNESCO Green Citizens Ambassador. Additionally, she is a Contributing Climate Justice editor with @feminist on Instagram and author for Shado Mag.She has spoken at events such as COP26, NY Times Hub hosted by Emma Watson alongside Malala and Greta Thunberg, the UN Women CWS66 Youth Forum, at COP25 with the Indigenous Pavillion, and TEDxCountdown with Climate Reality. And has been featured in the recent Guardian film on protecting the planet.Palmer is also passionate about sustainable fashion, and veganism. Dominique has walked Kornit fashion week show with Anyango Mpinga, and has modelled for brands environmental campaigns.
Stream 'Sharpened Knife', the song Dominique recorded with Titiyo for earth day :
Dominique's recent book writing feature: chapter in 'Intersectional Environmentalist' by Leah Thomas.See below for Dominique's speakers portfolio. For inquires, email.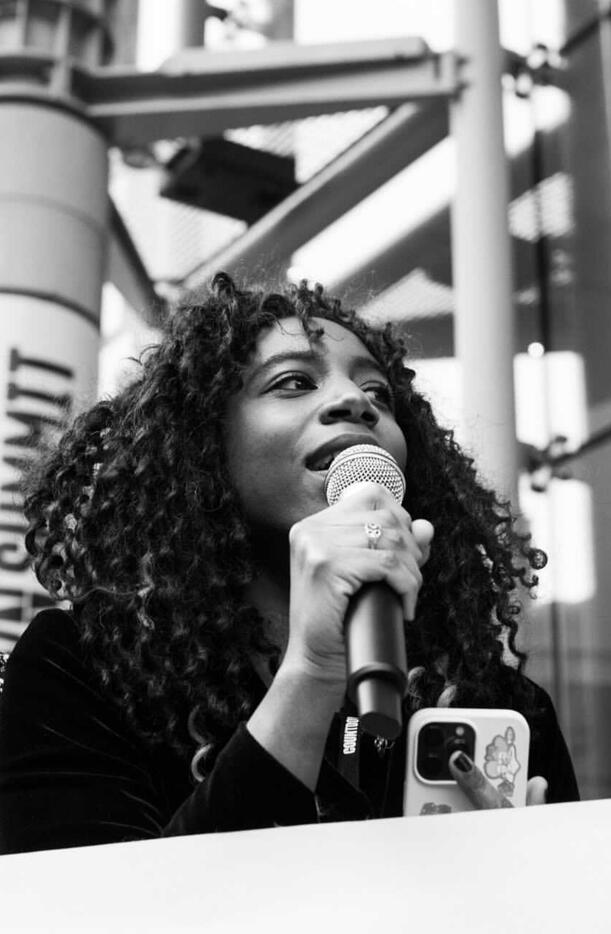 Dominique speaking at Ted Countdown, 2021, taken by Alice Aedy